Giveaway:
ONE Copy of
THE REEDUCATION OF CHERRY TRUONG to US or CANADA Addressed only. The giveaway will run until March 13, 2012. To enter fill out the Rafflecopter form at the end of this post. The winner will be notified by email and will have 48 hours to respond. To win you must be a follower of my blog.
The Reeducation of Cherry Truong by Aimee Phan Synopsis: (Provided by the Publisher)
Readers were first introduced to Aimee Phan's "strong, eloquent tales" in her collection of short stories, We Should Never Meet, which was a Kiriyama Prize Notable Book in 2005. She has returned with a debut novel about the Vietnamese American experience in THE REEDUCATION OF CHERRY TRUONG (St. Martin's Press; March 13, 2012; $25.99). Praised for her graceful and spare writing and compared to Amy Tan, Phan explores the lives of two fierce and unforgettable families, the Truongs and the Vos as they assimilate themselves in their new homelands following the fall of Saigon.
Cherry Truong travels from California to Vietnam determined to bring back her exiled brother, only to discover he is quite happy in his new life and that the unspoken rift between the two may never completely heal. Spanning thirty years and across three continents, Cherry begins to unravel the family secrets that not only have damaged her relationship with her brother but have also deposited one side of her family in the U.S. and the other in Paris.
Phan's depiction of this multigenerational, vibrant family keenly pinpoints their real life experiences of survival and immigration, marriage and infidelity, loyalty and betrayal, and successes and failuresall wrapped up in the quest for the American dream. As each member of the family is revealed and more secrets uncovered, Cherry is forced to face her own place in their long family history and come to terms with her discoveries.
"THE REEDUCATION OF CHERRY TRUONG explores the intersection of history and human hearts. With tenderness and wisdom, this intricately woven tale presents a world both mysterious and familiar to readers. Aimee Phan is a keen observer and a beautiful writer."--Yiyun Li, author of The Vagrants
"A touching relational and multigenerational family story … By not shying away from issues such as infidelity, gambling addiction, and racism in describing the various hardships experienced by her characters, Phan makes this a strong and realistic work … Phan's intricate storytelling recalls Amy Tan's Joy Luck Club in her ability to bind the family histories together but without the mystical spirituality that marks Tan's writing. Readers familiar with the work of Bich Minh Nguyen (Short Girls) should also enjoy this freshly presented story of the Vietnamese American experience."--Library Journal
"Touching on the events of the Vietnam War, cultural assimilation, reconciliation, forgiveness, and redemption, Phan creates an epic tale. Through Cherry's eyes, the complex country of Vietnam is lovingly explored in immense, realistic detail. Readers of Maxine Hong Kingston and Gish Jen will enjoy Phan's sensitive, lush prose and recognize similar questions of identity."--Booklist
About the Author:
Aimee Phan received her MFA from the Iowa Writer's Workshop where she won a Maytag Fellowship and teaches in the MFA Writing Program and Writing and Literature Program at California College of the Arts. Her writing has appeared in The New York Times, USA Today, and The Oregonian among others.
Order now from Barnes & Noble or Amazon!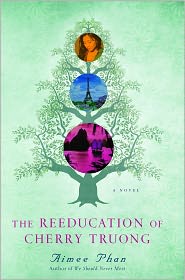 a Rafflecopter giveaway